This month I've been very blessed with several wonderful reviews and a beautiful comment from a fellow author who lives in America.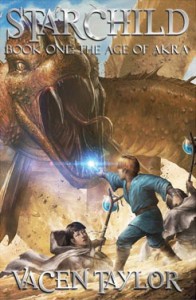 To start the month of February STARCHILD  Book One: The Age of Akra was reviewed by Mother Daughter & Son Book Reviews. Below is a piece from the review.
To say that the amazingly imaginative world and setting Vacen Taylor has created in Starchild greatly appeals to my inner geek is a huge understatement.  In chapter 1, Taylor sets the stage by describing (in just right amount of detail) the multilayered and complex social structure of the foreign planet Sage.  We learn about the special gifts and powers of the various people who inhabit the planet such as thoughtbankers, lightsealers, darksealers, soundwavers, soulbankers, firerulers, waterclaspers, and earthfollowers – all of whom play a key role in Mai and Long's journey.  And then there are the antagonists: darkones, minions, the spiderflax, dementras, and more. Oh what an imagination!  Loved it – more please!
You can read the full review for Starchild Book One: The Age of Akra here
Then at the end of the month STARCHILD Book Two: The City of Souls was reviewed by Mother Daughter & Son Book Reviews. Below is a piece from the review.
As with the previous book, I found myself thinking about Star Wars while reading The City of Souls.  The sand slavers reminded me of the Tusken Raider Sandmen from Star Wars and Viridi, the green healer reminded me of Yoda: "Collar, collar, collar. Mystical things they are. Hard to unlock."  I also sometimes felt like the author was influenced by Tolkien's Lord of Rings with descriptions of a dark force stirring and armies assembling.  The story even had elements à la Indiana Jones as the children have to navigate through a booby-trap laden chamber.  So, in short you can expect a real mix of genres with this science fiction and fantasy adventure.  As my daughter would say:  I loved, loved, loved it!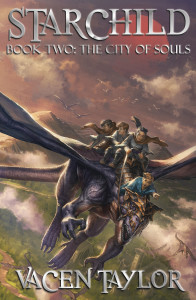 My Bottom Line: Starchild: The City of Souls is the second book in a science fiction fantasy featuring an intricate and engaging plot, well-developed characters who are faced with new challenges, a well-described setting reminiscent of Star Wars with a hint of Lord of the Rings and Indiana Jones-style action and suspense.  I'm in this series for the whole haul as I feel completely invested in what happens next as the prophecy continues to roll forward.  I highly recommend this book as well as the series to science fiction aficionados ages 10 years and older looking for something a little different.
You can read the full review here. 

To top all that off a wonderful author in America who I respect and admire for his ability to write wonderful stories and extremely beautiful poetry Ben Ditmars wrote this special comment about my book after reading it. Thank you Ben.

Ben's reading recommendation:
Vacen Taylor has written an incredible fantasy series called Star Child. The characters are on a journey to the Valley of a Thousand Thoughts in the City of Souls. The magic, characters, and world the author creates are astounding. Everything feels like something I haven't read before.
Please check out Ben Ditmars blog here.
I highly recommend Ben's book Haiku in the Night. I absolutely love the poetry in this book.  In fact I often read some of the poems over and over. I'm blessed to know such a wonderful creative human being.