Last Friday I participated in The Gold Coast Writers Festival – a Celebration of Young Writers proudly presented by the Gold Coast Writers Association.
The Authors in Schools Program
On Friday authors presented workshops and talks to children in participating schools. I was lucky enough to attend the Surfers Paradise Primary School with two other authors, Pamela Cameron Clarke and The Banjo of the Bush, Dave Farrer. As guest authors we were able to encourage children to explore the world of storytelling and poetry.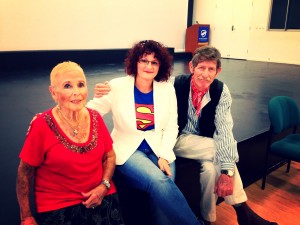 I presented a talk on comics, storyboarding and storytelling. These are subjects I'm most passionate about because I've collected comics for many, many years. Back when I began collecting comics there weren't many girls who read comics let alone collected them. On Friday I was excited to find out  there were many girls who enjoyed reading comics and knew a lot about comics and superheroes.
I talked a little about comics, my collection, and the one thing all writers or comic creators need to begin creating "an idea". I also talked about graphic novels which I also collect these days too. Storyboarding is another element that can be fun for children to explore. I showed them a very basic little story that I created using a comic storyboard technique, leaving some dialogue boxes incomplete and areas that can be changed or rewritten so we could explore possible changes or additions.
We then moved on to storytelling and explored the three basic elements we need when beginning to write a story, character, setting and time by using my "Step Over the Line" technique. That was lots of fun!
I'd like to thank the Principal, Gary Ivory, the teachers, and especially the children of Surfers Paradise Primary School for allowing me to visit their wonderful school.
I'd also like to thank the Gold Coast Writers Association for asking me to participate in such a fantastic event.
I'll leave you with a few of the wonderful comments the children wrote for me.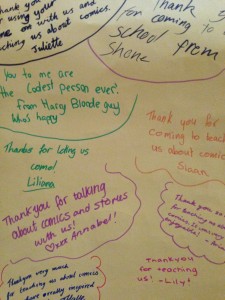 Thank you to all the children at the Surfers Paradise Primary School.

xx